6.1% abv | archive
Our second collaboration with One Love Brewery in Lincoln, New Hampshire.
Great One is our take on a classic American-style pale ale. Cascade and Centennial hops are added to the kettle for bitterness and flavor, and again as dry-hops for a light citrusy hop aroma and finish.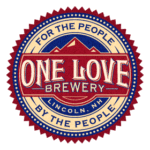 One Love Brewery is a family owned and operated German Lager House and Gastropub, but not necessarily in this order. We are passionate about providing awesome food, great beer and a damn good time. You only live once, love the life you live, live the life you love! Cheers, Jennifer & Michael Snyder.
One Love Brewery
25 South Mountain Rd, Unit 4, Lincoln, NH 03251
(603) 745-7290
www.OneLoveBrewery.com