New Hampshire's Great North Aleworks will send award-winning IPA and more to Massachusetts via Night Shift Distributing
The agreement will introduce the Greater Boston area to a variety of Owner Rob North's recipes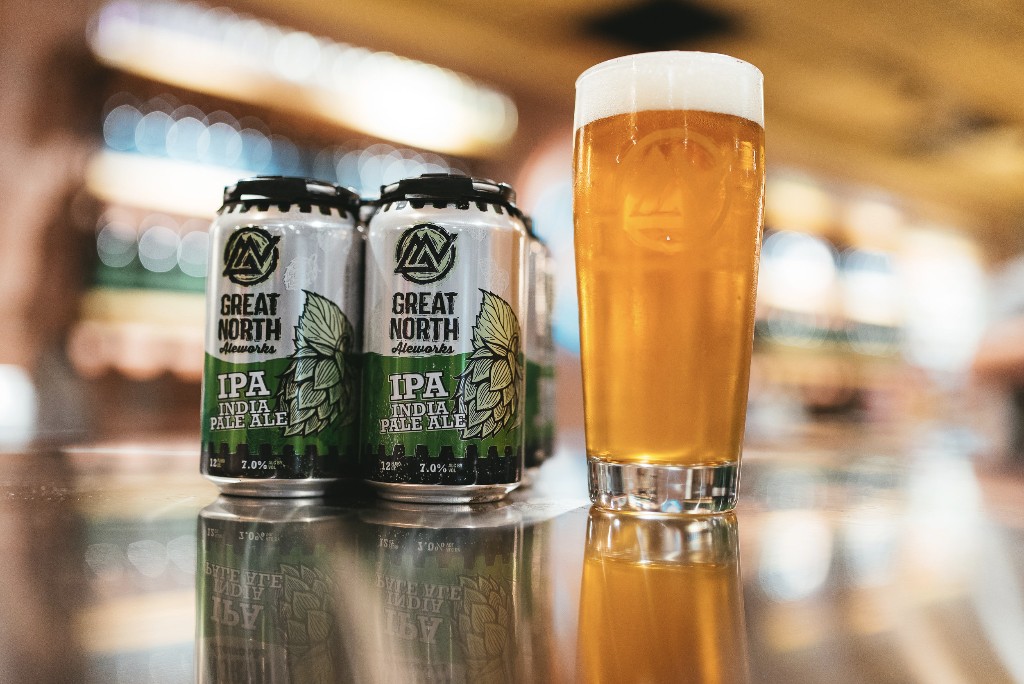 MANCHESTER, NH – A newly-inked deal between Manchester, NH-based Great North Aleworks and Chelsea, MA-based Night Shift Distributing will bring the two-year-old brewery's beer south to the Great Boston area starting in October.
Great North Aleworks first caught the eye of Night Shift Distributing CEO Rob Burns when the brewery's flagship Great North IPA took silver in the American IPA category at the 2016 World Beer Cup.
"We are extremely excited to share their award-winning IPA with the thirsty folks of MA," Burns says. "Great North IPA is an amazing balance of the classic West Coast style but with a distinctive New England touch."
For Great North co-founders Rob and Lisa North, the partnership means an entirely new audience for their varied lineup of beers; previously only available in New Hampshire and Connecticut. "Many of our current customers live in Massachusetts and enjoy our beer while visiting New Hampshire. It's exciting to know they'll now be able to enjoy our beers at home. We also look forward to welcoming new fans of our beer at our brewery and tasting room located just 20 minutes north of the MA/NH border," said Rob North.
Along with the award-winning Great North IPA, thirsty Massachusetts residents should expect to try the Tie-Dyed Dry-Hopped Pale Ale: an aromatic and refreshing session beer; as well as RVP Robust Vanilla Porter: a complex and enticing dark offering that marries toasted malts with pleasing vanilla sweetness. These three beers make up the core lineup for Great North, but other seasonal and limited offerings will likely make their way to Massachusetts in time – including Moose Juice IPA and Tragically Hopped Double IPA.
Great North's offerings will be available in 6-packs of 12oz cans, as well as on draft at local bars and restaurants. Canned beer was a priority for the brewery from the get-go, "Two of our core values are quality beer and accessible beer. We believe that cans help to achieve both goals, by keeping beer fresher for longer over bottles, and in a package that is more portable than glass. Can filling technology has made great strides in the last decade allowing breweries like Great North and Night Shift to adopt this format does what's best for the beer and our customers," said North.
The two will celebrate the partnership with a weekend of events from October 12th through the 14th. More information can be found at nsbeer.co/greatnorthlaunch.
About Great North Aleworks
Great North Aleworks is a 20 barrel production brewery located in Manchester, NH. Founded by Rob and Lisa North, the brewery's goal is simple – to craft flavorful, food-friendly beers, while maintaining a fanatical devotion to quality. For more information visit: www.greatnorthaleworks.com.
About Night Shift Distributing
Night Shift Distributing began in 2016 with a fresh approach to beer distribution in MA. With four years of self-distribution roots in the brewing industry, Night Shift Distributing is disrupting the MA wholesaler landscape by offering breweries a like-minded distribution partner with a strong focus on beer quality and freshness, brand control, and customer service. For more information, please visit www.nightshiftdistributing.com.