Canada Day Trivia Answers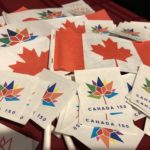 Thanks to all who came by the brewery on July 1st to help celebrate Canada Day. We all had a blast & we hope you did too! A lot of people participated in Canada Day trivia – as promised, the answers are available via the link below.
The maximum number of points that could be earned was 43. The winner was Josh Abugov with 42 points (there were 4 other answer sheets in the 40's). Josh will receive a $25 gift certificate for the win!