Jim Koch visits Great North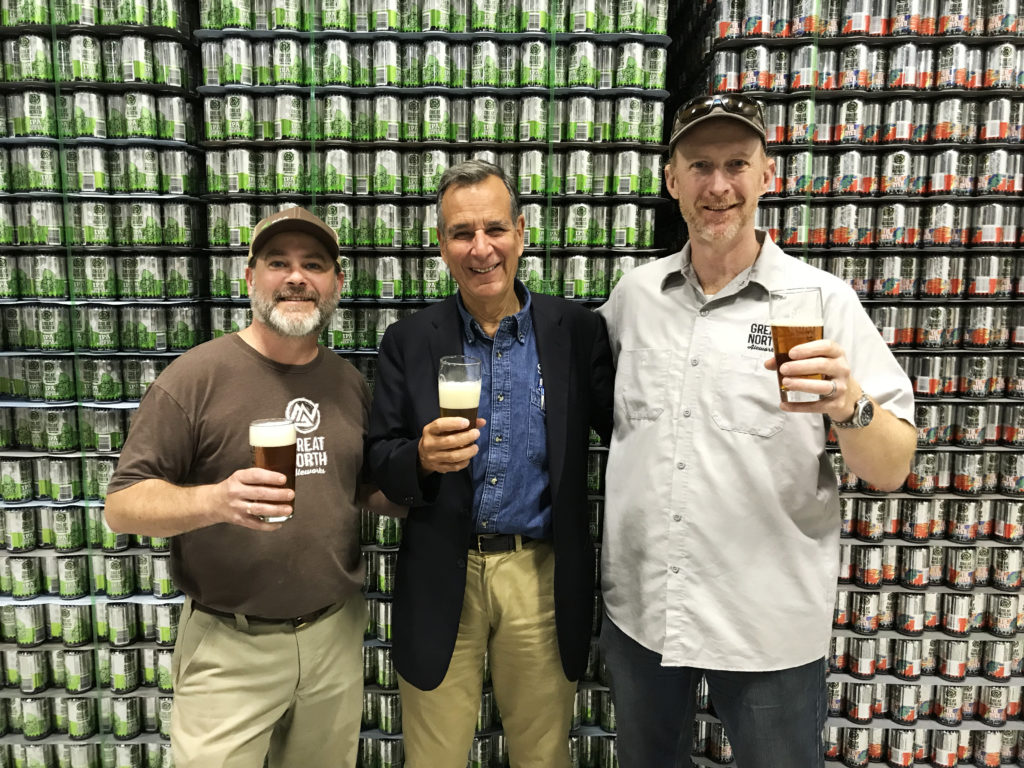 In October 2019 we had a special guest stop by the brewery. Samuel Adams Founder and Chairman Jim Koch was in Manchester and made some time during his busy schedule to check in on his old friends Rob, Lisa, and Mike.
Back in 2010 our Founder Rob North won the Samuel Adams Patriot Homebrew Competition. This gave him the opportunity to brew his award winning beer at the Sam Adams brewery in Boston and have it served on tap at Gillette Stadium for the 2010 New England Patriots season. That beer would later evolve into one of our original releases, a smoked ale called Smokin'. Not long after Jim visited Manchester to film a TV pilot and was a guest at Rob and Lisa's home where they homebrewed together in the North's driveway.
The year before that in 2009 our Lead Brewer Mike Robinson won the Samuel Adams LongShot homebrew competition with his Old Ale recipe. Mike's beer was part of a 6-pack that was distributed nationally. He traveled with Jim to the Great American Beer Fest and spent time with him judging future LongShot competitions.
Now both Rob and Mike are professional brewers! So it was a full circle moment hosting Jim and showing him around our brewery and sharing our beers over stories old and new.
Thank you to Jim and Samuel Adams for always supporting homebrewing and independent brewers!
Rob and Jim at
Sam Adams in 2010

Bob, Rob and Jim in the North's basement in 2011

Rob, Jim and Lisa at
Great North in 2019

Jim sampling beers at Great North in 2019