Great North Aleworks partners with Nappi Distributors to send its award winning beers to Maine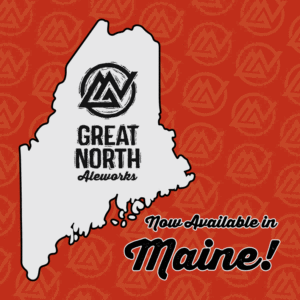 Manchester, NH • December 20, 2019—Great North Aleworks is excited to announce a partnership with Nappi Distributors to expand its distribution to the state of Maine. 
Starting in November 2019, Great North will ship year-round favorites Moose Juice IPA, Tie Dyed (Dry-Hopped Pale Ale) and RVP (Robust Vanilla Porter) in 16 oz canned four-packs and draft. Special Releases such as Chocolate Milk Stout and Hazy Rotation (a series of rotating New England IPAs) will also be available throughout the year.
"Bringing Great North beers to Maine has been a goal of ours since Day 1. Lisa and I both started our professional careers in Maine in the mid-late 90s and have always appreciated its beer scene; we are thrilled to finally be a part of it." said Rob North.
Great North Aleworks is near the completion of a year-long expansion project that included increased fermentation capacity, a centrifuge, a 1300 square foot drive-in cooler, and 2.5 barrel pilot system.
"Nappi Distributors is excited to begin this partnership with Great North Aleworks. Their unique portfolio, including Moose Juice IPA, is a natural fit for the state of Maine. Rob and his team are making some of the best beer in New England and we're pleased to welcome them to the Nappi family." said Ben Royal Craft Brand Manager for Nappi Distributors.
To kick things off, Nappi and Great North will be at the famed Great Lost Bear in Portland, Maine for a launch event on Friday, December 20, 2019 from 4-6 p.m.