Thanksgiving Week Happenings
Happy Thanksgiving to you and your family from the Great North Aleworks team. We certainly have a lot to be thankful for at the brewery this year. It was just a year ago that we secured the lease on our space – and a lot of exciting things have happened since then. Thanks to all of you who have enjoyed our beers and have helped to spread the good word. We have a lot going on this week…
Thanksgiving Week Tasting Room Hours:
We have extended hours this week on Wednesday & Friday, and will be closed on Thursday:
Wed, Nov 25th – Noon – 7:00 pm
Thurs, Nov 26th – Closed
Fri, Nov 27th – Noon – 7:00 pm
Sat, Nov 28th – Noon – 5:00 pm
If you are planning on stopping by for a growler fill on Wednesday (and don't have time to hang out), send us an email at info@greatnorthaleworks.com with your name, growler size (32 or 64 oz), and the specific liquid (IPA, RVP, Smokin', Cranberry Wit, Amber Lager), we will do our best to have it ready for you when you come by.
Chocolate Stout-off: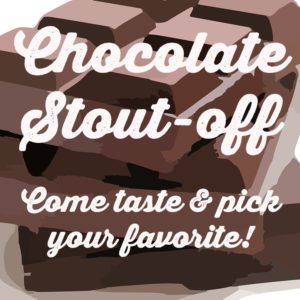 Folks are eagerly awaiting the release of our winter seasonal Chocolate Stout. We have brewed four small pilot batches, and need to decide on the final recipe. This is where you come in! We would like give folks a chance to taste the pilot batches and let us know which is your favorite. We'll be staggering the "stout-off" over the next three weeks, so stop by the tasting room for a complimentary sample. The schedule for taste-off will be:
   Week 1 – Nov 27th & 28th – Batch 1 & Batch 2
   Week 2 – Dec 4th & 5th – Batch 3 & Batch 4
   Week 3 – Dec 11th 12th – Pick between the winners of Week 1 & Week 2
The winning recipe from Week 3 will be brewed and released around the first of the year. As with all of our seasonals this year, Chocolate Stout will be a draft only release. Growlers will be available at our tasting room.
Black Friday Sale: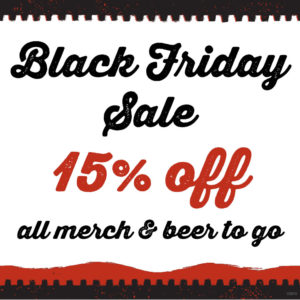 Stop by the tasting room on Friday, November 27th to take advantage of our Black Friday Sale.
We'll be offering 15% off purchases of all merchandise in our retail store and beer to go (growlers, 6-packs, and kegs).
Note, discount does not apply to keg deposits or purchase of gift cards.