From Manchester with Love…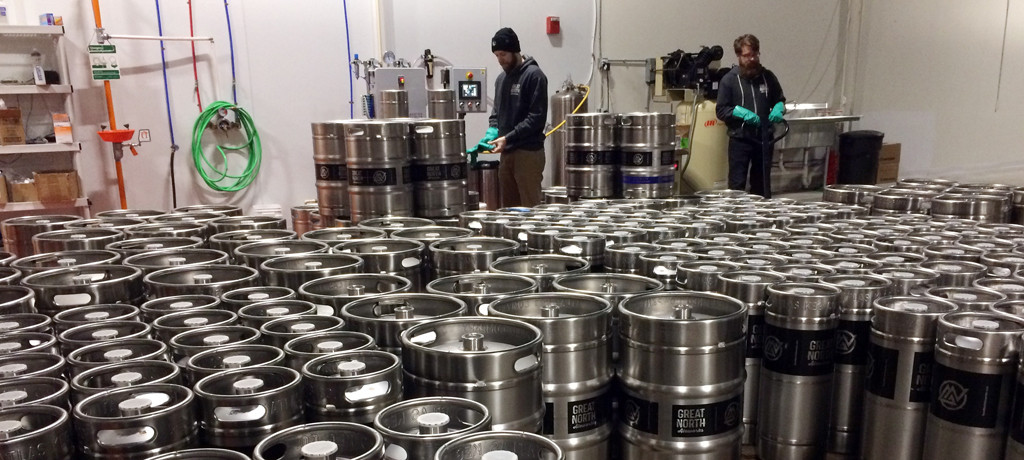 February is already upon us, and with that brings a few updates from Great North Aleworks. If you'd like to hear about a new release this week, tasting room hours for Superbowl Sunday, cask updates, Ice Fest, and a delicious five course beer dinner, then read on…
Special Releases
We have a couple special releases planned in the next couple of weeks at our tasting room…
Friday, February 5th – Moher Hops
We'll be unveiling the first Great North beer designed and brewed by our Assistant Brewer, Ryan Moher. "Moher Hops" (get it?) is a big American IPA clocking in at 7.65% ABV. Using a blend of both old-school (Cascade) and new-school (Citra and Simcoe) hops, Ryan created a delicious, aromatic, and sneaky smooth IPA. This batch was brewed on the SBS (a.k.a "small brew system") so we have a limited amount that will be available in the tasting room in 4 oz samples and pints only. Come in for a taste and let us know what you think!
Friday, February 12th – Cask Tapping
Thanks to everyone who came out for our first cask tapping on Jan 22nd. We were humbled to see the cask of Chocolate Milk Stout with cold brewed coffee from Wayfarer Coffee Roasters disappear in less than 2 hours! We had such a fun time that we decided to fill the cask again. This time we started with RP-no-V (that's what we call RVP without the vanilla) and aged it on rye whiskey oak. We'll be tapping this cask on Friday, Feb 11th at 3:00 pm, and once it's gone, it's gone!
---
Superbowl Sunday
For your game day needs, the tasting room will be open from 1:00 – 5:00 on Sunday, February 7th. Come on by and relax a little before the game & get a growler fill or 6 pack to go!
---
Beveridege Ice Fest
Great North Aleworks is thrilled to be participating in the 2nd Annual Beveridge Ice Fest on February 13th from Noon to 3:00 in support of End 68 Hours of Hunger. Ryan and Joseph will be out on the ice pouring our brews along with 36 other breweries. Swing by our table and grab one of our beanies for the special price of $10 and keep your head warm. Buy your tickets for the fest here.
---
Five-course Beer Dinner
Join us at the Thirsty Moose in Dover on March 2nd for A Smoky Winter's Night Beer Dinner. The chef has put together a menu that is sure to make your mouth water.
Smoked Lamb Chops with Green-Goddess Sauce paired with Amber Lager
Smoked Salmon Salad with Ginger Dressing paired with Smokin'
Smoked Pork Chops with an Apricot-Citrus Chutney paired with IPA
Blackberry BBQ Beef Tournados with a Jicama Slaw paired with Chocolate Milk Stout
Old Fashioned Donut with a Vanilla Porter Glaze paired with RVP
Call or visit the Thirsty Moose in Dover to get your tickets (603) 842-5229.